Mid-Winter Yin + Sound Bath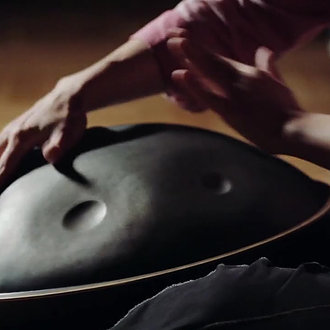 Mid-Winter Yin + Sound Bath
Yoga Spirit's next monthly experience is going to be a goodie!
Simone, Leaf and Drugo are coming together to offer the community a mid-winter Yin Yoga and sonic healing experience as a uniting force to warm and enhance the health of the body and soul.
Winter is the most 'Yin' of all seasons and a perfect time to slow down, turn inward to listen to the deeper callings of the heart-mind.
The Yin Yoga practice with Simone calls on Traditional Chinese Medicine (TCM) wisdom specifically for winter.
Focused on the kidney and bladder meridians, this gentle passive practice will nourish the connective tissues in this area to flow healthy, warm, and strong ​Qi​ (life force) around the body and organs.
The experience will be infused with a range of healing and ethereal sounds from Leaf and Drugo, including ancient Sanskrit mantra and chants from the Bhakti Yoga lineage and instruments such as the hang drum, crystal and Tibetan singing bowls, Shaman drum, shaker, rain stick, chime bells and the didgeridoo.
This will be a true otherworldly sonic bath to merge with as the life force flows around the body and the heart-mind harmonises this winter.
The experience will be lit by candle and fairy lights as the night falls upon us, with the energy cleansing plant of Palo Santo burning.
All equipment is provided (mat, blanket, bolsters/cushions).
Optional BYO:
Water/warm tea (this will also be available and on offer)
Extra blanket for over top/underneath
Extra cushion for support
Eye mask
Crystal/sacred object
Journal should you have any new desires come to fruition or intentions you wish to cement on paper for your winter months.
This experience is held at the Yoga Spirit studio space (bigger gallery space) on the Whanganui river front. Enter on the riverside, 19 Taupo Quay – in between the silver ball and Mud Ducks at the Whanganui Community Arts Centre.
Please wear comfy clothing you can move in. The space will be nicely warmed by heat pumps. Bring layers you can put on or take off to suit.
Benefits of Yin:
Yin Yoga addresses the connective tissue, which reduces pain and stiffness, improves body posture, strength and endurance and creates elegance, harmony, greater mobility, and health. It follows Traditional Chinese Medicine (TCM) wisdom, working with the meridian pathways of the body for healthy Qi (prana or lifeforce).
Further benefits include:
Reduces stress relief
Decrease stress
Lengthens muscles
Reduces adhesions
Hydrates tissues and muscles
Thickens and strengthens ligaments
Lubricates joints
Hydrates skin
Detoxifies
Reduces degeneration of tissues
Normalises curvature of the spine
Reduces osteoporosis
Helps to prevent fusion of joints
Calms the nervous system and the mind
Increases the level of GABA (help the body respond to stress)
Assists meditative practice
Benefits of sound healing:
Sound or vibration is at the core of all life, without these vibrations the Earth and the Universe would not exist. Vibration is about connecting to what makes us human.
Vibration is known to have the power to alleviate physical pain and shift emotional and psychological states, bringing about increased access to healing, harmony and connection. It encompasses the OM. It refers to Atman (soul) and Br​aha​m (ultimate reality, truth, divine).
Amongst the sound on offer by Leaf and Drugo, two talented local musicians, will be original Sanskrit mantras and chants – the powerful language of yoga and the Bhakti tradition, handed down over the centuries as healing medicine for all, along with Rainbow songs and some improvisational sounds, chosen in the moment to assist alignement for invidual and collective energies in the room.
Rainbow songs also offer healing vibrations and have originated from communities of people who congregate in remote forests around the world for a full moon cycle, with the intention of living a shared ideology of peace, harmony, freedom, and respect.
One of the main insturments used will be the hang drum, which is tuned to 432 Hz (the frequency of the Earth). 432 Hz frequencies have been associated with enhancing mood and alleviating fatigue. Most importantly, tuning to the earth frequency. 432 Hz is known as the natural tuning of the universe and is a cosmic number related to sacred geometry that provides relaxation. It extends its roots in musical theory, science and architecture. Meditating with the healing power of 432 Hz music can help gain greater insights to mental and emotional clarity.
Booking:
Booking in advance is essential to ensure appropriate room set up and equipment.
Please ensure you register your interest using the form below.
Read the terms and conditions here and tick the declaration box in the registration form to fast track entry on the day.
You will know that you have registered correctly as you will receive a registration thank you on this same page.
Your booking is confirmed (and your space held) by making your contribution of $25pp to the Yoga Spirit bank account: 38-9019-0371435-01.
Please use your full name as the reference. First name in full too please.
Please wear comfortable clothing you can move in.
If you can't make it at the time, please let Simone know asap as there is always someone on the waiting list hoping to get a spot.
Simone is a certified 500 hour level two yoga and meditation teacher and an advanced Yin yoga teacher offering special yoga and wellness-based experiences every month and sometimes inbetween.
Simone also offers weekly Yin Yoga and Vinyasa Flow open studio classes (see class schedule) and private sessions. Join the Yoga Spirit mailing list or the Yoga Spirit Facebook Group to stay up to date with new offerings or class information.